Sun BroadBAND Quest
Calling all College and University bands in the Philippines! Now is the time to let the world see and hear what you are made of. Join in the
Sun BroadBAND Quest,
a competition where broad music styles battle it out to be the top all-original university band of 2013. MCA Universal and Sun Broadband collaborated on this project with one goal in mind - to promote original Filipino music and local talent and at the same time fight piracy. If your group is up for the battle, then compose and video record your original song together with a cover version and submit it online. But first, you need to purchase a Sun Broadband [E]ntertainment Stick (a tool to get all-original, non-pirated music) with a unique access code to register. Get chosen to be in the Final Ten to compete in the Grand Finals for a chance to win
P150,000 + Professional coaching at the Broadband Quest Workshop + Band Album (produced and released by MCA Universal Records + Gigs and OMV (Original Music Video) from Sun Broadband and MCA Universal Records
.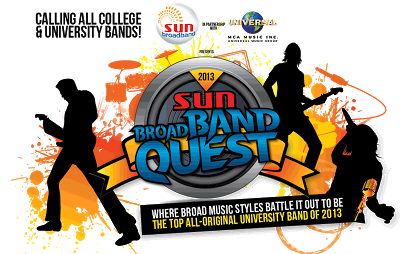 Contest Requirements:
Open to all unsigned and amateur local bands composed of college students, ages 16-25 years old
A minimum of three (3) and a maximum of five (5) members per group

All members must be currently enrolled in the same college/university, with the exception of the vocalist/s
Each member must be part of only one (1) competing band of the same school

Purchase of Sun Broadband [E]ntertainment Stick (one per band)
Contest Mechanics:
Log on to sunbroadband.ph/bandquest and register using the unique access code from the Entertainment stick
Entry Guidelines
Your band must play the song using musical instruments
Must make two (2) video recordings to be submitted:

One (1) video recording of your band's all-original song
One (1) video recording of a cover version of any song by any band of your choice as long the genre is not heavy metal

Note:

Your band members must show/present your valid school IDs in both the video recordings (all-original song & cover version)

Your song may either be in English or Tagalog
Videos should be in MPEG, MP4, and FLV format
Should not exceed 50MB in size
Length should not exceed 5 minutes
Upload the two (2) videos recordings upon confirmation of your access code
Judging Criteria
Selection of Top Ten (10) finalists

40% Song Composition
20% Voice Quality
20% Musicality
20% Performance/Showmanship

Grand Finals

40% Originality
30% Musicality
30% Perfromance/Showmanship
When your band gets selected to be part of the Top Ten (10) finalists, Sun Broadband and MCA Universal deserve the right to get information from your band's college/university its permission to allow you to join the contest, before any announcement is done
The selected Top Ten (10) finalists will compete in the Grand Finals
Contest Period:

Deadline of submission of entries until June 15, 2013
June 22, 2013 - Top Ten (10) finalists' full day workshop and one-on-one session with the top bands and artists signed under MCA Universal
July 12, 2013 - Grand Finals
Contest Prize:
Grand Winner

P150,000 CASH
Professional coaching at the Broadband Quest Workshop
Band Album (produced and released by MCA Universal Records
Gigs and OMV (Original Music Video) from Sun Broadband and MCA Universal Records

First Runner-up

P50,000 CASH
Professional coaching at the Broadband Quest Workshop

Second Runner-up

P25,000 CASH
Professional coaching at the Broadband Quest Workshop

Top 10

Professional coaching at the Broadband Quest Workshop
Upside
Online submission
Showcase your band talent
CASH prize
Professional coaching for your band
Downside
Purchase of Sun Broadband Entertainment Stick (one per band)
For more info, log on to sunbroadband.ph/bandquest